2021 Ram 1500 Vs 2021 Toyota Tundra in Rockland, Ontario
2021 Ram 1500 vs 2021 Toyota Tundra in Rockland, Ontario
It is interesting to consider that the truck segment has become one of the most popular among automotive consumers in Canada. In 2009 passenger vehicles outsold trucks by almost three to one; if we look 11 years later, trucks have risen to dominance and left passenger vehicles in the rearview mirror. In the first three months of 2020, pickup trucks accounted for over 80,000 new units, a far cry from a decade ago. One truck has taken the automotive market by storm in the past five years. It continues to show the rest of the industry and residents of Clarence-Rockland, Orleans, Hawkesbury, Embrun, Limoges, Bourget and surrounding areas of Ontario what it can offer. The 2021 Ram 1500 has received many third-party accolades for its drivability, interior luxury and capabilities. 
So no surprise that Ram has won Motor Trend Truck of the Year for three consecutive years. It's not to say that it is the only truck in the segment; the competition is definitely fierce from Ford, GMC, and Toyota. The latter offers a fantastic truck in the Tundra and continues to challenge the Ram. So why not put them head to head? At Belanger Chrysler we are excited to offer a great inventory of 2021 Ram 1500 A truck that is continuously ranked in the top three among pickup trucks. And we've made it simple to acquire your next truck while browsing online, and don't forget about getting pre-approved. Please complete our online finance application its quick and simple. So what are you waiting for?
Safety and Technology Comparison
The two trucks couldn't be any more different. The Ram earned a five-star crash-test rating from the NHTSA, while the Tundra only receives an average rating. Both trucks do offer a plethora of driver assistance technologies along with great in-vehicle technologies as well. However, the Ram seems to have a more updated version of almost every technology offering from its 12-inch Uconnect infotainment system, while the Tundra features an outdated system that has been reviewed and is tolerable and unintuitive. It's safe to say that the Ram is currently in a league of its own and will continue to push forward. If you have any questions regarding the 2021 Ram 1500 please don't hesitate to contact us.
2021 Ram 1500 Exterior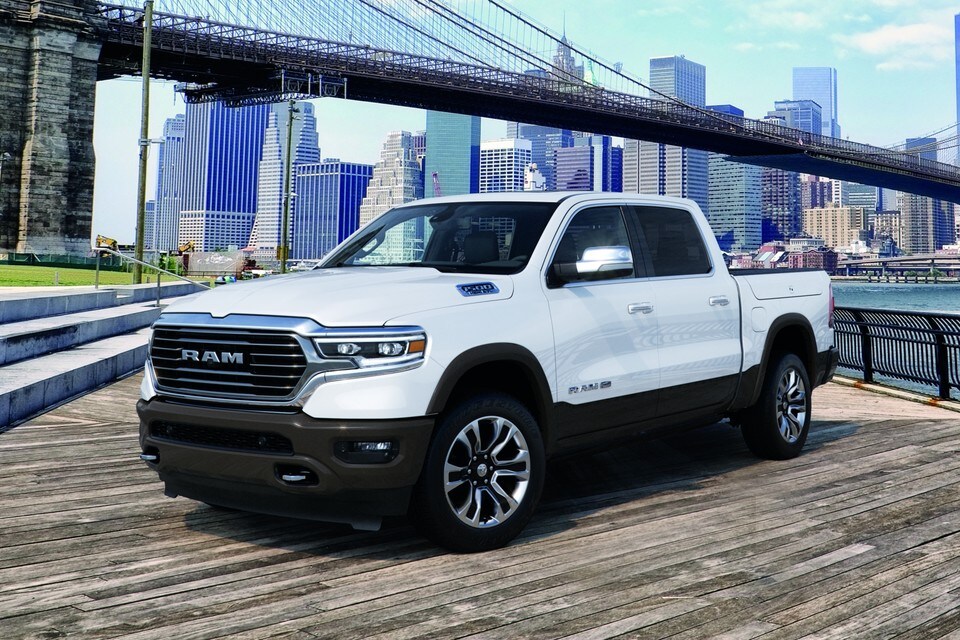 2021 Ram 1500 Interior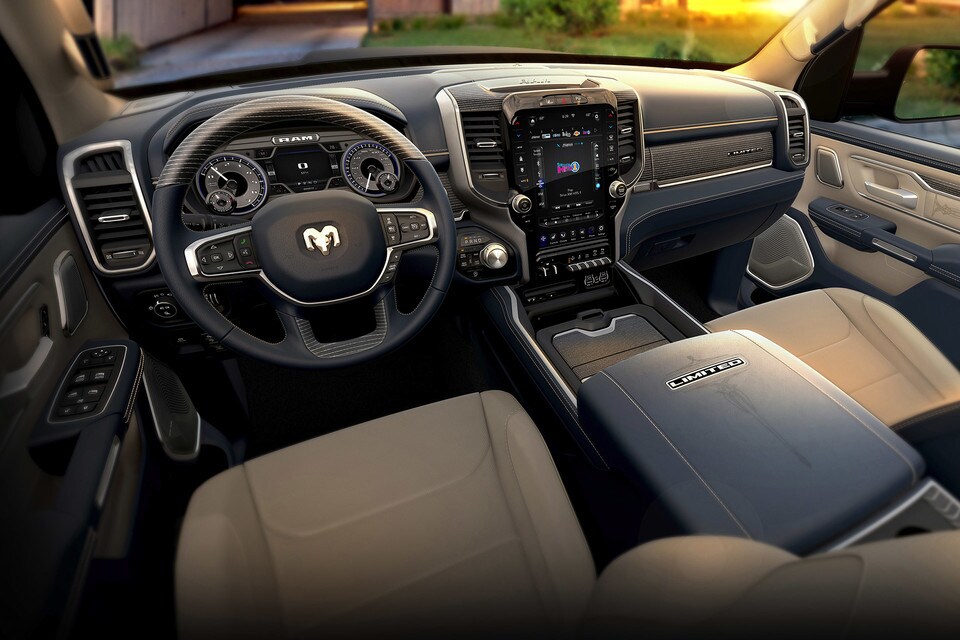 2021 Ram 1500 vs 2021 Toyota Tundra Interior and Exterior
The 2021 Ram 1500 features an interior cabin that screams luxury. Higher trims add high-quality, upscale materials and an abundance of creature comforts that make you not want to get out. Ram has done a superb job of making this truck feel more like a luxury vehicle than a pickup truck. With upscale features like heated and ventilated seats, premium leather seats, genuine wood accents, a panoramic roof, and so much more. While the 2021 Tundra is a spacious cabin and oversized features, as journalists have noted, it needs an update as its presentation and materials just don't meet Ram's quality and prestige.
On the exterior, the Tundra suffers from the same drawbacks of its interior; its dated design language needs to be updated. At the same time, the 2021 Ram is considered one of the best-looking pickup trucks in the market, if not the best. Its aggressive yet elegant front end showcases its personality in a divisive manner.